Str8hell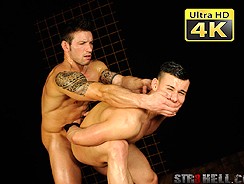 JUB Site Rating:
1 total vote





Updated: 2017-08-07
Primary Categories: Fetish
Secondary Categories: Amateur, Big Muscles, Bisexual, Bondage, College Men, Erotic Massages Handjobs, Euro Guys, Group Sex, Hardcore, High Definition, Humiliation And Torture, Intergenerational Gay Older And Younger, Straight Men, Uniforms, Video Downloads
1 Galleries
37 Videos
Str8hell's Billing & Pricing
Str8hell's primary billing processor: Ccbill
• Monthly: $29.95 (recurring at $24.95 every 30 days)
• Monthly: $34.95 (30 days, non-recurring)
• Quarterly: $59.95 (recurring every 90 days)
• Half year: $89.95 (recurring every 183 days)
VISIT Str8hell NOW!
Well, where do I start? Just when you think you've seen all there is to see in straight-does-gay porn along comes a site like Str8 Hell. Not only are the guys here (mainly) straight, they also must be desperate for cash as they allow other guys to do the most amazing things to them. The site is by turns BDSM, very horny, bareback, all about spanking, all about CBT, all about really sexy guys and totally all about excellent quality. It's not your average fetish site this one, not by a long way. And not only that, it looks brilliant.
Okay, so I've just had a tour around inside the members' area (I am still downloading some videos while I have access) and honestly, I've not seen anything like this before. The whole thing is put together by porn legend William Higgins, now working out of the Czech Republic and that means you get a load of his top straight gay-porn actors in here. They are known for being studly and cute, with a mix of jocks and twinks from 18 to around 30, and they are east European guys from the Czech Republic or Slovakia, which means there's a feast of foreskin involved as well. You can check the model index and find a huge long page of totally horny guys - keep scrolling down, you'll see more. There are hundreds, just click on one to find his content.
And that content covers just about every kind of kink you could think of in 580 + exclusive scenes. Guys are bound and spanked, forced to take large cocks and dildos in every orifice, there are tit clamps and butt plugs, ropes and wrestling and plenty of dungeon style scenes all well filmed and naturally played out. There's a very handy category page which includes CFNM, security guard fantasies, tickling and high voltage work too, as well as castings videos and some backstage ones.
Technically you do really well at Str8 Hell. Apart from the fact that the site looks amazing, it's got lots of download options for you, plus streaming movies. There are six download options included in your membership, with HD WMV at 1,280 x 720, a couple of QuickTime ones up to that same resolution, plus one smaller, and a 640 x 360 version of each scene for Apple devices, and the stream at the same size. Sadly, if you want the full 1,920 x 1,080 HD download you will have to pay extra, but to be honest with you, I found the other resolutions were just fine and didn't feel the need to pay anything more.
Movies come with galleries and these are also well presented with Flash slideshows, downloadable zip files of full sets at 1,280 x 1,024, and online viewing with over 300 pics per set at good sizes and great quality. Around all this there are interactive options such as rates and comments, you can add tags and also add things to a favourites area. The site updates every three or four days and there's even access to the 'archive' which, after entering my membership login, took me to Czech Guys Next Door for even more horny east European guys in hardcore movies. By that time, I was kind of saturated with sex and needed to go and have a lie down.
Bottom Line:
Bottom line? Str8 Hell is an amazing site from a top company where straight guys get punished and sexually used by other guys, straight and gay, and where you get a great range of sexy Czech and other guys in BDSM scenes, fetish action and bareback hardcore. You'll never need another site like this again as there's so much here and it's updating its high quality movies and galleries regularly. In fact there probably isn't another site like Str8 Hell and it's well worth the sign up price.
Tags:
BDSM, Raunch, European Kink, Amateur4kGayForPayPorn, Czech guys, Spanking, Bareback, HD, CBT, Fetish, Hardcore, Uncut
High Definition Yes (1080p downloads cost extra)
DRM Free Porn Yes
Downloadable Yes
Content Format Videos, Galleries, Models
Live Shows No
Bonus Content Yes (Czech Guys Next Door archive)
Multiple Site Hub No
Content Updated Two times per week
Mobile compatible Yes
VISIT Str8hell NOW!
VISIT Str8hell NOW!