Deviant Otter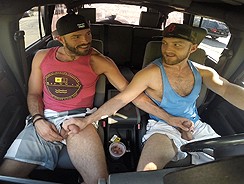 JUB Site Rating:
0 total vote





Deviant Otter's Billing & Pricing
Deviant Otter's primary billing processor: In House
• Monthly: $24.95 (recurring at $19.95 every 30 days)
• PPV: $9.95 for 30 minutes (non-recurring)
• PPV: $19.95 for 150 minutes (non-recurring)
• PPV: $34.95 for 120 minutes (non-recurring)
VISIT Deviant Otter NOW!
No, we are not talking about a naughty river animal, but a guy who goes by the name of Devin Totter (a play on words). An 'Otter' in bear culture is a slender, but hairy guy and, in this case, our little otter is just that. He's also versatile, he started off with some work for Maverick Men and now has his own site which carries his own exclusive content. What we are looking at here are home-produced, unscipted movies starring our cute and bearded Devin, and a line-up of other hot amateurs in some pretty versatile videos.
And when I say versatile, I don't just mean that our cute and deviant otter is versatile, but the videos are also really varied, which is always good to see. They kind of fall into the bear bracket, if you like, with fit and hairy amateur guys, though not always big and butch, often straight and red-neck, straight acting and usually pretty well hung too. There's no model index, the site is really simple, but you get decent sample shots for each video that give you a rough idea of what to expect and the titles help: Twink Slappy (for a bit of smooth, young ass spanking), Maine Mouth Bang and Raw Otter Stuff all appeared on page one when I was there and there were 70 movies to stream.
Yes, the movies are stream only but there are three resolutions to choose from including HD, with a Flash system where the default and mid-range version is at 740 x 380. The movies are often POV so you get that extra variety, and they are well made and naturally played out. The sound is fine too so although you can't actually keep any, you do get a great ride when you are in the site. They also run for good lengths of time, around 30 to 40 minutes and with 70 of them, you've got a lot of viewing ahead.
So, what we have here are really hot amateur videos that play out well and offer you good variety. But there's actually not very much else. Don't expect too much information, though there are short written intros to scenes, and you can add things to a favourites collection. But there are few of the other extras we like to see (bonus content, model details etc.). Although you can't put rates, you can leave comments. However, if you want to get really involved, you can apply to be a model. You'd better be up for the challenge though, as once you walk into Deviant Otter's lair, you gotta be prepared to do absolutely anything.
You can link into his blog and there you find an About page and you can also follow him on Twitter, so that's the way you get to find out more about the site. The sign-up price is also simply set. There's a recurring monthly membership at $24.95 which is a fair price for all exclusive content, and there's also a PPV system that you can opt for and the larger package you buy, the cheaper it is.
Bottom Line:
The bottom line here is that you've got good and exclusive content from an experienced amateur guy who knows how to set up hot, hardcore and unscripted scenes. It's all a bit beary and very natural, the guys are a good mix and there are plenty of varied scenes. It's streaming only, updates are not dated so we're not sure of the schedule, there's a blog and the site is very simple. If you want to find hot stuff at the classier end of the amateur spectrum, then Deviant Otter is your horny, hung guy to hang out with.
Tags:
Amateur Porn Videos, Hung, Straight, Bareback, HD, Exclusive, Bears, Gay Otter, Red-neck, Hairy Slender Men
High Definition Yes
DRM Free Porn Yes
Downloadable No
Content Format Videos
Live Shows No
Bonus Content No (Blog)
Multiple Site Hub No
Content Updated No schedule/dates
Mobile compatible No
VISIT Deviant Otter NOW!
VISIT Deviant Otter NOW!