Tickled Hard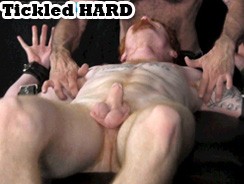 JUB Site Rating:
0 total vote





Tickled Hard's Billing & Pricing
Tickled Hard's primary billing processor: Ccbill
Monthly: $24.95 (recurring every 30 days)
Monthly: $29.95 (30 days, non-recurring)
Quarterly: $49.95 (90 days, non-recurring)
Other: $79.95 (180 days, non-recurring)
Year: $99.00 (365 days, non-recurring)

$29.95: 30 credits
$50.95: 60 credits
$71.95: 90 credits
$89.95: 120 credits
$199.00: 400 credits
VISIT Tickled Hard NOW!
There's that fine line in a tickle-torture session where it goes from being fun to being painful, and that's when you realise that you are bound and tied down and can't escape. That's the line that Tickled Hard takes with its exclusive BDSM tickle torture videos where hunky guys are at the whim of other hunky guys. There's some dick action and cock sucking and the mastermind behind the site, Franco Dax, appears in many of his own movies; as the top-tickler of course. Scenes start with him, or another tickler, chatting to and about the hot guy tied to the table and from then on, that guy is at his mercy until cum-shot (if there is one) and wind-down.
The site has been around since 2012 and so far has amassed over 168 exclusive videos, all on the same themes, but with a variety of hot amateur models, from cute next-door boys to harder, older guys who clearly work out. Movies run for between 20 and 35 minutes each and a new one is uploaded every week. Upload dates are shown along with the names of the moles who appear in each scene. It is easy to search the list and use some filters to find exactly what you want and the site has a neat design that makes it really easy to use, the video quality is good and I had no technical troubles. There are, though, a few things to be aware of.
These are stream only videos though you can pay extra to download them or save them to your Cloud, assuming you use some kind of cloud storage. Members have discounts on these extras, but you Otherwise, it's streaming only and in a choice of three resolutions, 360p, 480p and 720p, with trailers available to run of you want. The top resolution I found was at 1,280 x 720. There are, therefore, two kinds of membership and you might need to sign up to both. The standard monthly version, where you can stream everything as much as you want, and the credit scheme which even full members must sign up to in order to download or save the movies. This can add some extras costs to the membership, with $24.95 for 30 days streaming access, plus a further $29.95 for 30 credits to download, and with downloads and cloud-saving costing around four to six credits each.
However, there are also some extras to gain with your standard monthly membership. There are images with each scene, with galleries holding various numbers, and these are good and sharp and sized at 960 x 540. They come with easy online browsing too, but again there is no downloading to be had. You also have a model index to browse around and there were 139 guys here to explore. These guys look like amateurs, but there are some very cute and sexy men in the line-up; aged from 18 upwards with a variety of hard and soft, cut and uncut dicks, great smiles and all of them are able to make wild and desperate noises when they are at the mercy of the tickle-master.
Bottom Line:
The pricing structure and stream-only set-up here at Tickled Hard might sound costly at first, but it's not and the streaming is fine, and the quality is good. It's all exclusive BDSM tickle-torture with hot amateur guys in a site that updates weekly and gives you exactly that kind of mad, sexy, bondage with hot amateur guys that its tour promises.
Tags:
BDSM, Tickle, Torture, Amateur, College, Twinks, Bondage, Foot play, Fetish
High Definition Yes
DRM Free Porn No
Downloadable No
Content Format Videos, Galleries, Models
Live Shows No
Bonus Content No
Multiple Site Hub No
Content Updated Weekly
Mobile compatible Mp4 downloads cost extra
VISIT Tickled Hard NOW!
VISIT Tickled Hard NOW!