Bad Boys Bootcamp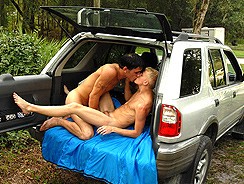 JUB Site Rating:
1 total vote





Bad Boys Bootcamp's Billing & Pricing
Bad Boys Bootcamp's primary billing processor: In House
$24.95 for 30 days recurring
$49.90 for three months recurring
$99.00 for six months recurring
VISIT Bad Boys Bootcamp NOW!
Hot, horny, naughty and very bad boys get sent to boot camp to knock some sense into them. What the actually get is hardcore sex knocked into them and the cum knocked out of their nuts, as they indulge themselves and each other in some hot hardcore action indoors and outside. There are group scenes here, duos and solos, and a nice variety of guys in a collection of 32 scenes from six series of movies. You will see a trailer for the latest one starts to run as soon as you open the tour page, and that will give you a good idea of what to expect once inside.
I found one long page housing all the scenes when I called in to the boot camp, and that trailer started up again in the members' area where I was also invited to view some Free Video Previews, which was a bit of a worry as I'd signed up, but it turned out to be no cause for alarm. I had full access to the streams and downloads, and you will have too when you join.
Movies are shown in a streaming screen in JW Player that has the option to play in Mobile size, or standard, and that comes out in a screen at 950 x 695, where, I have to say, the image can be a little bit fuzzy. There are also two download options with these scenes, and they were both MP4, one at 720 x 480 @ 1,487 kbps and the other, listed as the mobile version, at 360 x 240 @ 292 kbps. Downloads were quick and the quality of the larger version was fine. These are kind of mid-quality amateur style filming movies and although you may see them listed as HD, they are not really full 1080 HD, but hover around the 720 mark.
What they do do well is give you some hot twink sex in each part with some good and fit looking models. There is a boot camp element, with a drill instructor instructing at times, and that part of the fantasy is played out well. These 'scenes' are actually parts of longer movies, and they run for around 10 to 15 minutes each, not every one has a cum-shot conclusion so some are simply guys playing, sucking and fucking. There are galleries with each one with various numbers of pics and these, in the more recent (top of the list) scenes were at 724 x 486 in size and were small, but clear.
And here's an interesting thing; this is a brand new site but comes with content that's dated from 2006, except the dates are not shown or stated in the site, I found the records on the 2257 page where all six series of movies were listed with the date their last parts were completed, and those dates were all in 2006/07. So, although the site may be listed as new, I wonder where the movies have been for the last seven or eight years, have they perhaps been lurking on another site? Has this site been around and only recently re-vamped and re-presented? I'm not sure, but I wanted to make you aware of this piece of news nonetheless.
Bottom Line:
There is no update information and no info about the scenes, where or when they were made and if or when anything new will be added, and there's no model info either. But there are fresh boys and hot scenes here in mid-range quality streams and downloads, with some nice images to collect as well. It's not interactive and it's small and pretty simple, but Bad Boys Boot Campo, with a few additions and more info could go a long way. What's worth signing up for are the higher quality movies, though the site should work well on a mobile device too.
Tags:
Twinks, Military, Hardcore, Smooth, Teens, Anal, Blow Jobs
High Definition No
DRM Free Porn Yes
Downloadable Yes
Content Format Movies, images
Live Shows No
Bonus Content No
Multiple Site Hub No
Content Updated Unknown
Mobile compatible Downloads are
VISIT Bad Boys Bootcamp NOW!
VISIT Bad Boys Bootcamp NOW!