Bad Boy Bondage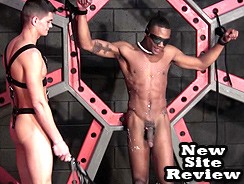 JUB Site Rating:
0 total vote





Bad Boy Bondage's Billing & Pricing
Bad Boy Bondage's primary billing processor: In House
$24.95 for one month recurring
$49.90 for three months recurring
$99.00 for six months recurring
VISIT Bad Boy Bondage NOW!
Think of the sexiest way you could 'torture' a twink (in a kind of BDSM, role-play way) and the chances are they've tried it over at Bad Boys Bondage. This is a neat little site that, I hope, is going to grow and get bigger, as it's currently still quite small. The movies here were all made in 2013 and before, according to their records, they are presented simply in a site that offers movies and galleries only, no extras, and a site that has hot, fresh and youthful twinks as its main stars. The action is all about BDSM, with guys chained to crosses with electrodes attached, wrapped and sucked and butt fucked, and there are streams and downloads to be had.
To give you an idea of what to expect (apart from looking at the tour which comes with a trailer or two) here's one of the scene descriptors from inside the members' area: "Mikeal straps twinky Lucas Love to a St. Andrew's Cross and begins his various forms of punishment. Lucas gets shocked up with electro-clamps and an electro-cock ring, as Mikeal seals him with saran wrap and makes use of his flog." You get the picture?
There were 20 scenes when I called in and these were parts from six sessions, each part lasting around 10 to 15 minutes. They came with a JW Player stream which, in the more recently made scenes, had several streaming resolutions to choose from, up to 1080p at the top and down to mobile, with two 'standard' and one '4', which I wasn't sure about, but all played fine. Faster connections should be okay with the HD, mobile devices should be fine with the smaller versions; the stream screen was, by default, at 963 x 638. I was able to jump through the stream and go full screen. The quality was fine, kind of decently made amateur quality, with good lighting and natural sound.
Downloads are also offered in up to three resolutions, while older movies only have two. There are mobile versions, at 360 x 240 @ 292 kbps, 'standard' ones at around 720 x 480 @ 1,487 kbps, and in some parts you have HD at 1,920 x 1,080 @ 3,995 kbps.
Movies also come with some images. You will see 'preview images' which are the ones you might catch on the tour, and then 'premium images' which are only available to members. It's a bit odd that the members' area still carries things like this and also carries 'free video previews', which are hang-overs from the tour pages. Once signed up and inside though I was able to see and download everything.
What I wasn't able to do was find out more about the guys in the movies, or find out if and when new scenes might be added. There's nothing interactive here, no rates or comments, no getting involved and very little information about anything. That's a shame because the site seems to be offering us new and fresh BDSM with some really good looking amateur guys, and I'd like to feel comfortable following the site with an on-going membership. I was more than happy with what I did see, it's just that I'd like to know I was going to be seeing more of it.
Bottom Line:
So, a set of decent quality parts from a series of hardcore BDSM scenes where guys get whipped and tied, bound and fucked, forced to suck cock and then get splattered with cum. Decent enough movies and nice images, but not a lot of info about updates or models, or where the scenes are from; so I am not even sure if they are exclusive or not. But certainly worth a viewing for all collectors of BDSM, particularly twink punishment BDSM.
Tags:
Twink BDSM, S&M, Twinks, Punishment, Hardcore, Bondage, Whips, Smooth, CBT
High Definition Some
DRM Free Porn Yes
Downloadable Yes
Content Format Movies, images
Live Shows No
Bonus Content No
Multiple Site Hub No
Content Updated Unknown
Mobile compatible Some
VISIT Bad Boy Bondage NOW!
VISIT Bad Boy Bondage NOW!