Stock Bar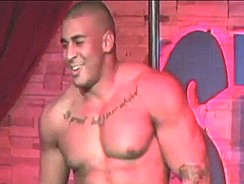 JUB Site Rating:
0 total vote





Stock Bar's Billing & Pricing
Stock Bar's primary billing processor: In House
€14.95 for seven days recurring
€29.95 per month recurring
€35.95 for one month non-recurring
€69.95 for three months recurring
VISIT Stock Bar NOW!
We're looking at something truly unique here at The Stock Bar. This is a club, in Canada I believe, where male strippers perform every night, having an audience of gay guys most nights and women on a Wednesday for ladies night. You can either pop down there or drop in via their live feed. When they are not online they are showing recordings and there are loads of cameras in all kinds of places around the bar. Here's how it works:
You log in and, if you are online between 8pm and 2am (local time) you can watch the live show as it happens and soak up the atmosphere. If you're not then you will find something to watch in the videos of recoded live shows, clips, backstage action, solo guys jerking off, the strippers relaxing, the staff out and about, special events, parties and all kinds of other fun stuff that is put together for your enjoyment.
But don't think this is just a site with some oiled up hunky guys jerking off. It is, but there is so much more to it than that. You've got the live shows every night and you can watch them in a streaming window which I found worked really smoothly on a mid-range connection. There is something like 14 cameras around the bar so you get plenty of variety of angles. Then, at certain times, you can also see the dancers backstage in their studio. This appears to be a place where they come to relax, jerk off, solo and together, chat and speak to the camera. It's a varied collection of all kinds of fun things backstage. There is then the jerk off room, and this is a voyeur's dream. Members of the audience come into the little room and sit, or stand, before the camera(s) and then simply jerk off. You can flick between the channels and the atmosphere of the club thumps on outside as you watch. There is also a gallery area with around 90 pics from the shows to browse through.
And, while all this is going on, whether the stage is in use and the club is open or not, you can chat with other members. I think you can even chat with dancers when they are around two nights a week in their Studio. I have to say, the technical side of everything runs really well here and I had no issues with it. The movies were stream only, recordings as well as live, so you will need the appropriate software in so you can stream, but again that's not an issue. The quality was reasonable at a window size around 690 x 400, and full screen is possible without any reduction in quality. The faster your connection the better of course. Adding up all the movies here, the clips, the recordings, the interviews and solos, I'd say here was well over 830 in total, so not only have you a new live show every night you also have a wealth of content to look back on.
Bottom Line:
The bottom line here is that if you fancy a night out at a strip club but can't get to one, or don't want to go out, you can simply buy in to Stock Bar and have the time of your life. I found the prices were in Euros for me, but still good value considering what you get. And it's much cheaper to sign up here than it is to go out for the night. The quality is good, you will benefit from a fast connection but it's not essential and you get nightly hunks in strip and dance shows that come with some stunning extras; and you can chat all the way through it with new friends without anyone shushing you. Brilliant.
Tags: (with comas)
Live, Strippers, Solos, Jack off, Chat, Canadian, Hunks,
High Definition No
DRM Free Porn Yes
Downloadable No
Content Format Live shows, Backstage, Recordings, Chat, Interviews
Live Shows Yes
Bonus Content No
Multiple Site Hub No
Content Updated Daily
VISIT Stock Bar NOW!
VISIT Stock Bar NOW!