Edger 9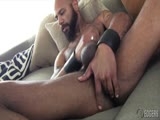 JUB Site Rating:
0 total vote





Updated: 2013-01-21
Primary Categories: Gay Hunks
Secondary Categories: Amateur, Bears, Big Muscles, Black Men, Bondage, Erotic Massages Handjobs, Fetish, Gay Porn Stars, Hardcore, High Definition, Interracial, Latino, Mature And Older, Tattoos Inked, Video Downloads
Currently No Galleries
27 Videos
Edger 9's Billing & Pricing
Edger 9's primary billing processor: Ccbill
$17.95 for one month recurring
$20.00 for 30 days, non-recurring
$49.95 for 90 days recurring at $18.95 per month
$99.00 for 12 months recurring at $18.95 per month
VISIT Edger 9 NOW!
I was doing some background checking on this site and found out that it used to be a vehicle for Race Cooper, a big, black hunk of a stud, and that he used to appear in every movie. But recently things have developed and he is no longer the only star of the show. Edger9, after a bit of a shaky start, now offers 'real life fantasies' in its exclusive and top quality movies, with downloads, streams, mobile downloads and some neat extras.
Logging in to the site, the first thing that struck me was how neat and modern it all was. The home page is a wall of large sample photos from the videos and these are shown with their viewing formats, rather than names or dates; you will see that recent movies are HD. There is a very basic top menu in the form of boxes, to take you to the home page, model index and then support. It really is a simple site, and you are signing up for the movies alone. There is a blog, but that's free for all and to be found in the tour area; worth a look and a bookmark for later.
So the scenes and the men the drive the main site. I clicked to a couple of movies to see how the viewing pages were and found them a simple as everything else. A stream starts playing as soon as you open a page, and these were a high quality format so you're going to need to be on a decent connection to get to view them easily. They start with a storyline, they are well filmed and well edited and they use cinemagraphic techniques. You are looking at top quality productions here. However, I did find that I was not given any information about them, no runtimes, not even when playing the stream, no file sizes when downloads, and no way of jumping through the stream. The download speed was only around 100 kbps and I had no idea how long each DRM free download was going to take. Resolution quality was good though, 1280x720 @ 2 Mbps to 3 Mbps.
Nor was I told the upload dates and here was nothing to tell me if or when anything new going to be added. There was more info about each scene on the tour pages than there is in the members' area, and it was only on the join page that I found that the updates were due to be twice per month. I would have liked to have seen more details inside the members' area. It was almost as if the site didn't care, now they had my membership, they just left me to get on and view.
But I am not knocking the videos, it is because of them that the site has been nominated for awards; they really are top class and very well made. There are currently 38 of them and they feature 38 hot models. Some of these are top porn names (Turk Mason), several of the cast are ebony guys (Race Cooper) and some of them I would love to see more of (Jose Baja to name but one). The model index gives us some very basic information and links to the videos, but it is the same as you see on the tour pages. In fact, when you click to the model index you are actually clicking out of the members' area and you either have to back button back in, or use your access details again, another little niggle.
Bottom Line:
So I have to conclude that Edger9 is absolutely brilliant for HD, high quality, well-made, and totally load blowing hardcore, interracial action and also stud on stud, with some 38 top notch scenes. But there is no information, no galleries, no interactivity, no news and updates only happen twice per month. The membership fee, however, is low to reflect those numbers.
Tags:
all kinds of men, leather fetish, Jocks, Interracial, Black, Exclusive, HD, Downloads, Quality, drm free gay porn, daddies, muscle bears, hairy, smooth, intergenerational gay
High Definition - 1280x720 @ 2 Mpbs to 3 Mbps
DRM Free Porn - Yes
Downloadable - Yes
Content Format - Videos
Unique Features - None
Live Shows - No
Bonus Content - No
Multiple Site Hub - No
Content Updated - Twice per month
VISIT Edger 9 NOW!
VISIT Edger 9 NOW!