Stud Fist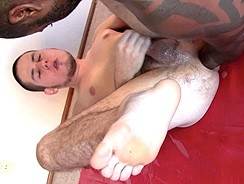 JUB Site Rating:
0 total vote





Stud Fist's Billing & Pricing
Stud Fist's primary billing processor: Ccbill
$25395 for 30 days recurring at $21.95
$65.95 for 90 days recurring at $19.95 every 30 days
VISIT Stud Fist NOW!
Stud Fist is a collaborative effort of to handball players Amerifist and Dyn0. (sic.) It's all about real gay fisting, with guys really into the fetish, scene, activity, call it what you will. These two make their own exclusive videos, they have mates come over and join in so there's a collection of 'Fist fuck pigs' on offer, and a lot of soul behind the site as it is the passion of the main hosts. The sign up prices are good and it's worth noting the reduction in fees after your first month or three months.
Signed up and logged in and the first thing you see is someone up to his elbows in work. Or in the ass of another guy. You're really looking at a 100% fisting site here and make no mistake. Checking out the videos I found 14 sample shots on page one and then a total of around 150 movies to view. Each one is sampled with a shot of someone being fisted, sometimes double fisted, or of a shot of an ass that's just about inside out. (What do you call that?) You get a bit of an intro written up and then a button or link to click to watch the video.
I found a variety of file types in use with Flash streams around 720 x 480, WMV files at 450kbps @ 320 x 240 in the older movies and the same in MOV files. But, in the more recent download there were HD files at 1,280 x 720 @ 3,000 kbps in WMV, Mp4 and also DRM free files suitable for smart phones and the like. So, bottom line (no pun intended) is that you should be able to download and keep all these fisting shoots in some form or another. For amateur made movies they are pretty good quality and these guys certainly know what they and their friends, and I assume, you, really like to see.
Not for the faint-hearted. You're only going to get off on his stuff if you really are into the fisting scenes. There's white lube everywhere, disappearing fingers, hands and arms, up to the elbow and sometimes those double fistings as well. You will see some medical implements in use with assholes being stretched open and the insides examined. If you want to see what I am talking about, then check the tour or the blog.
Getting back to other features of the members' area: you've got a galleries area where there are many sets showing you exactly the same kind of action as takes place in the videos. It looks like there is a bit of an odd set up to the galleries: they are sampled with six images, you click one and it opens and then there's a note saying 'one of 30', or whatever, and I assume you click through one at a time from there. The quality is fine, a mix of screen caps and digital stills it looks like and images opened up to reasonable sizes for my screen.
That's kind of it for the site content. I can't say when updates happen as I didn't see any dates, but if you keep an eye on the Stud Fist Blog you will no doubt be kept informed of when something new has been put up, as it were.
Bottom Line:
There is no doubt that Stud Fist is by, for and about guys who are 100% into the fisting scene. Her is some sex (in the more standard sense) but you're really looking at hardcore fist in ass movies and pics here, with news, updates, details and information about the scene as well as the decent quality and downloadable, amateur, real fisting movies.
Tags:
Fisting, Fetish, Leather, Hardcore, Anal, Amateur, Leather
High Definition - Up to 1,280 x 720 @ 3,000 kbps
DRM Free Porn - Yes
Downloadable - Yes
Content Format - Movies. Galleries
Unique Features - Blog
Live Shows - No
Bonus Content - No
Multiple Site Hub - No
Content Updated - Content not dated
VISIT Stud Fist NOW!
VISIT Stud Fist NOW!