Male Junction Videos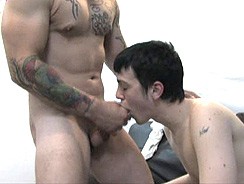 JUB Site Rating:
0 total vote





Male Junction Videos's Billing & Pricing
Male Junction Videos's primary billing processor: Ccbill
$19.99 for 30 days recurring
$25.00 for 30 days non-recurring
$45.00 for 90 days non-recurring
$39.99 for 90 days recurring
VISIT Male Junction Videos NOW!
This is a bit of an interesting site. Male Junction Videos appears to be an independent company making its own amateur movies. And I think it's UK based, as some of the videos were shot in Brighton, if their titles are anything to go by. It advertises events and encourages members to be a part of the film making process. That's either by appearing in the scenes or by letting them film in your house, or office, or wherever. So what we have are some wonderfully amateur movies, which are actually decent quality, in an amateur site that is a bit limited but that actually makes a nice change from the norm.
You sign up, and it is not expensive, and find yourself in a members' area where there are two menus. The top one has links to the generalities such as the Events and Location details, the model index and the place where you can get in touch if you want to go and be a model. But beneath this is a slightly darker colour is the menu that takes you to the videos. You can select to view them all in which case you have 102 at the moment, set out across numbered index pages, or you can view them by their categories. One of the things that Male Junction Videos is about is pitting older and younger guys together in hardcore scenes. So your categories are: Mature - Younger, Younger - Younger, Solo Jerk Off, Voyeurism and Groups, and Something Different.
OK, so you, like me, want to know what 'something different' is; well, it's simply the fetish stuff: watersports, spanking, cross-dressing and domination. I have to say that I am not sure what their definition of 'younger' is as in at least one of the younger/younger movies the guys were over 40, but then there are also a lot of silver daddies and older men here. Whichever area you go to you will find the same set up and the video viewing, which is very limited. You find a scene from the thumbnails and click the 'preview' button. This takes you to a kind of intro page where there is a title, runtime and description, plus a short trailer. You can then click further to watch the full video. And now you have the full sized stream to run but you only have the one choice and you can't jump through it. (You could download with Real Player or something similar if you have it installed but there are no other choices for watching the movies.)
The biggest category here is definitely the younger/mature one and you get the impression that the site has been set up so a few old guys can get their end away with some younger men. And that brings me to the model index where there were 29 amateur men on show. Some are young, many are old some are really old and most have a plain and ordinary look, though there are a couple of classic 'cute' faces. The guys come with a set of around five images each, and actually so do the videos, the site is short on image content, and you can click across to each model's videos from a page where there is some very basic information about him. Like everything else here this is all very simple and amateur looking.
Bottom Line:
On the one hand you have a good cast of real amateur guys in real amateur movies, but on the other hand the site suffers from the amateur webmastering (no offence but it is very basic). We'd like more viewing choices, more images, more information, more ways to get involved other than being a model or letting them shoot a flick in your kitchen, and more news on updates; there are no dates published. But for real amateur hardcore, and for intergenerational hardcore at that, this is a site that does the trick.
Tags:
Real Amateur, British, Uncut, Intergenerational Gay, Daddies, twinks, silver daddies, bears, chubby, Gay Daddy and Boy Porn, European, Married Men
High Definition - No
DRM Free Porn - Yes
Downloadable - No
Content Format - Videos with a few images only
Unique Features - Model index (29 models), Apply to model, be a location, join in
Live Shows - No
Bonus Content - No
Multiple Site Hub - No
Content Updated - Dates are not shown.
Safe Sex Notice:
This gallery contains images of unsafe sex practices, also known as barebacking. Engaging in sexual practices without the use of a condom is a risky and unnecessary behavior. There are a lot of studios including the one listed on this page that film bareback or have bareback scenes in their content libraries. The images presented below should only be used for fantasy and you should not deceive yourself into thinking that "everyone is doing it." Further, you should not assume that just because you see photos or film content of barebacking that sexually transmitted diseases have been miraculously cured. HIV and other sexually transmitted diseases are very real and potentially lethal. Please practice safe sex in your own life and educate yourself regarding the dangers of not wearing a condom before having sexual encounters. Visit AMFAR for more information about safer sex.
VISIT Male Junction Videos NOW!
VISIT Male Junction Videos NOW!