Scary Fuckers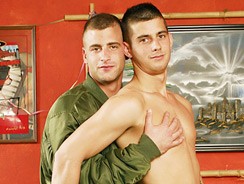 JUB Site Rating:
0 total vote





Updated: 2012-03-05
Primary Categories: Hardcore
Secondary Categories: Bareback, Big Muscles, Gay Hunks, Gay Porn Stars, Group Sex, Mature And Older, Multi Site Networks, Tattoos Inked, Uniforms, Video Downloads, Video On Demand
28 Galleries
57 Videos
Scary Fuckers's Billing & Pricing
Scary Fuckers's primary billing processor: In House
$2.95 for here days trial recurring
$29.95 for 30 days recurring
$68.95 for 9 days recurring
$199.99 for one year
VISIT Scary Fuckers NOW!
First things first: Scary Fuckers is a relatively new site but it is one that's part of the Next Door set up, which means that not only do you get good quality, exclusive content, but you also get access to a wealth of bonus sites and a live show too. I mention that at the top as I know you're looking for good value and you get it with this site, even though there is not a huge amount of content as yet. It's updating regularly though so you've got no worries on that score.
What you are looking at with this new site are hard and horny guys, skinheads, men with tattoos, 'breeders' in suits, and raw, bareback action. There were 13 scenes when I called in, dating back only two months or so, so that is a good update schedule. The most recent is shown on the homes page with a large streaming screen, the others are then sampled beneath it. You have a drop-down list of your many bonus sites and a basic top menu to take you to the photos and live shows. If you want the site in another language then look up and to the right to find a choice of six, and while you are there you can link in to your social networking sites, and contact support if needed. So, the basic navigation and design are all nice and simple. No worries there.
Sampling a video to see how they are presented and if they present any problems, I found a page with plenty of choice. There were seven download files from my PC, including various qualities of WMV and MP4 files, from small at 240p to HD at 1080p. If I wanted to stream online then I could do so in three qualities, so your connection speed should not be an issue here, and if you want files for your mobile you have them too; there were five choices from small to high, HD quality. Once again, there are no problems with these viewing options and there is going to be something to suit everyone there for sure.
The quality is fine, the movies run for a good length of time, around 25 minutes each, and you can jump through the action using the slider (with its images) as a guide. On this viewing page you are also given upload dates, the models' names and a basic description of each scene. And the scenes do play out as fantasy content, rather than trying to be reality content. So you find guys in situations where sex flows naturally, well, kind of, and you find exactly the kinds of men that you were promised on the tour.
Photos for videos are also linked from the main viewing page per scene, or found under the tab in the main menu. There were many more photo sets here than videos, so use the main tab as a way of finding them. There were 311 sets, and I suspect that many come from other networked sites, as well as being a mix of solo models and their own sets, and action shots from movies. Image quality was always good though, no matter what set I looked at.
You can also check the live shows area and this is exclusive for members of any of the sites listed in your bonus list. There's a countdown to the next show and a third-party live show site to check out while you wait, but you won't have to pay anything extra for your main live show. And then you can check the bonus sites and I counted 29 sites in the drop-down list; all good quality content, varied and mainly exclusive. It's a great package of extras.
Bottom Line:
You not only get some pretty rough and ready, tough and menacing guys at Scary Fuckers, you get great quality movies and pics too; add on the extra sites and the live shows and you are getting very well treated. Definitely a network/site to sign up to for all kinds of horny fun.
Safe Sex Notice:
This gallery contains images of unsafe sex practices, also known as barebacking. Engaging in sexual practices without the use of a condom is a risky and unnecessary behavior. There are a lot of studios including the one listed on this page that film bareback or have bareback scenes in their content libraries. The images presented below should only be used for fantasy and you should not deceive yourself into thinking that "everyone is doing it." Further, you should not assume that just because you see photos or film content of barebacking that sexually transmitted diseases have been miraculously cured. HIV and other sexually transmitted diseases are very real and potentially lethal. Please practice safe sex in your own life and educate yourself regarding the dangers of not wearing a condom before having sexual encounters. Visit AMFAR for more information about safer sex.
VISIT Scary Fuckers NOW!
VISIT Scary Fuckers NOW!