Fratmen Sucks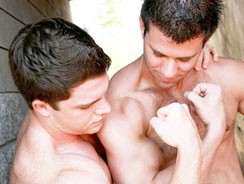 JUB Site Rating:
3 total vote





Fratmen Sucks's Billing & Pricing
Fratmen Sucks's primary billing processor: Ccbill
$15.95 for a five day trial
$34.95 for 30 days
$99.95 for 120 days
VISIT Fratmen Sucks NOW!
It's all about bi-curious, gay and possibly even straight but doing it for the money guys at Fratmen Sucks. You are looking at a place that takes college guys of all kinds and puts them together in buddy jerk-off and suck movies, it comes with galleries and scenes that you can stream on line or download, it's easy to use and has a simple, but stylish design.
So, in more detail: once you have logged in you start off at a home page that is packed with pics. Well, there is the latest movie featured top of the page and then nine episodes sampled with fitted-together images, then index page numbers to guide you to the other pages. All you get by way of information are the names of the guys appearing, there were no upload dates here so I can't tell how often the site adds new content. But I can tell you how easy it is to click through to a scene and then to view the video. Basically, you click the sample image from the index page and the viewing page appears. You can watch the scene in a Flash stream by clicking the start button that you see, or you can download the movie when available.
You will need iTunes to download the scenes, and they come out as MP4's at 960 x 544, while the Flash streams are at 640 x 360. The quality is fine, the sound is natural and the action is rather nice, to say the least. I did notice that not all of the scenes can be downloaded; when you click through to a viewing page you will see if this is a stream only or a download option movie; you can either do both or only stream.
Some movies have openings, like stories, or at least set-ups, and each one comes with a description of what's going to happen. I found at least one movie that ran for 85 minutes, with others running for at least 25, so you get good sessions, and these are slow, sensual suck and jerk sessions with the guys working on each other but often finishing themselves off. Just like the way the site works, it is all very simple.
And unfortunately that simplicity means you don't get any interactive options. You can't rate the scenes or make any comments on them. There is no model index so you don't get to find out much about the models, and the only way you really know who is in what scene is from the descriptions and then from actually viewing the movie. This means you will need to work through each one in order to find who your favourite guy is; not that there is an 'add to favourites' function, but no matter, you will have a pretty horny time watching these guys as you trawl through.
There were 37 scenes when I called in to the site and each one also had a set of images with it. These clicked up to 480 x 720 and were screen caps, some of which were blurred because of the dark lighting, but mainly the images are perfectly viewable and act as a kind of guide as to how the action is going to unfold. Navigation of the site is by way of two small links at the top, back to home and back a page, and via the numbered index pages. If you need help there is a link at the bottom of the page.
And that's it really; more info about uploads and guys would be great, as will more content when it comes along. What you have here certainly hits the nail on the head when it comes to horny young college dudes, sensual and erotic blow jobs and well made movies, and this should definitely be a site for all frat-boy fans. So, does Fratmen Sucks suck? Well, the guys sure do but the site does not.
VISIT Fratmen Sucks NOW!
VISIT Fratmen Sucks NOW!