Out In Public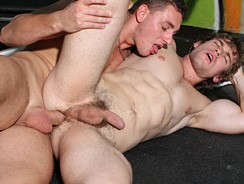 JUB Site Rating:
2 total vote





Out In Public's Billing & Pricing
Out In Public's primary billing processor: In House
$4.95 for a two day trial - recurring
$29.95 per month, recurring
$89.95 for three months, non-recurring
VISIT Out In Public NOW!
Out In Public came out, as it were, in January 2010, since then it has added 15 movies to its exclusive collection and they are all on its original niche theme: guys having sex in public places. The movies are well put together, you can view them in clips or as full length scenes, the men are varied and amateur performers in the main, and apart from the public sex, there is another recurring theme:
Your main man goes out and about looking for trade. He finds a suitable candidate and chats him up. He then takes him somewhere nearby for a quickie, or a 20 minute shag basically, and this means that what you actually have here are realistic hook-ups, the kind of things that happen in real life. Reality viewing if you like.
Technically speaking you're well looked after, though you might find your options limited. Everything worked just fine for me, there were clips running in a medium to large Flash screen, with next and previous navigation tools attached, the quality here was good. There were full movies to play too, again in one choice of Flash, but there were no download options. It is easy to jump to the accompanying screen caps where you have a more or less frame by frame approach with hundreds, if not thousands, of images taking you right the way through the action at 720 x 406 in size. Numerous, good quality and wide screen pics that open in new windows and that you can download one by one. The digital photo galleries hold less pics, but these include posed portraits as well as posed action shots, and these opened in new windows to 800 x 533 in size, no problems there.
The action takes place in a variety of locations, with guys getting it on behind the dumpster, in the parking lot, on the roof, but always outside, just as promised. There are some nice couplings with hung older guys ass banging some cuter younger guys, studs and jocks, average men and preppie puppies getting in on the action.
I wasn't disappointed by Out In Public as it gave me what it had promised to give me on the tour, and I always like a site that is honest and up front, like this one is. I would have preferred some download options, and more choices of viewing resolution as, if you're on a slower connection, it's going to be a bit frustrating to run these Flash streams, you'll probably suffer from 'start and stop' as you do. There is little or no interactivity either, you've got no favorites are, very few details, and you can't vote or comment. The Live Cam area only worked once I'd entered a random name in the search box - the only thing visible on the screen at first.
I was also a bit disappointed with the 'Bonus Sites' as they are listed in your top menu. These were not full members' sites to view but rather were 'special deals' for you to take advantage of. Some good sites are featured, there are five in all including the famous Bait Bus, the new It's Gunna Hurt, and old favorite Cody Cummings. You click one to open a new window and come to the tour, then you have to sign up and I didn't actually see where the 'special offer' came in; there were no promotional codes for example, just the standard sign up fees. So that is something to watch out for and something for the site to either make clearer or organize better.
Bottom Line:
Out in public has gotten off to a reasonable start with one new and exclusive, public sex, movie each week. Your viewing choices are limited but the quality is fine, the galleries are good quality and the screen cap galleries are massive. It's going to grow slowly over time and hopefully it will add in some more interactive options, proper bonus sites, not just adverts, and some download options too.
VISIT Out In Public NOW!
VISIT Out In Public NOW!