Its Gonna Hurt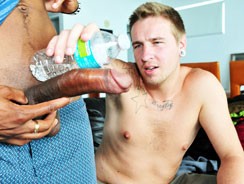 JUB Site Rating:
0 total vote





Its Gonna Hurt's Billing & Pricing
Its Gonna Hurt's primary billing processor: In House
$4.95 for a Two day trial, recurring
$29.95 for one month, recurring
$89.95 for one year, non recurring
VISIT Its Gonna Hurt NOW!
Not only is there a neat theme to It's Gonna Hurt, there's a fun feel to the site too. It's new and fresh, it's well put together and it's all exclusive content. There's a simple idea: sexy, ordinary guys get drilled by some very large and fat cocks, the there are facial finales and everyone goes away happy, if a little sore between the legs. And these cocks aren't morphed, you can't morph a video, and the site not only has full length videos
(and full length dicks!)
but it has well stocked galleries and good screen captures too.
It's all very simple really, though the design gives it a very professional air. You enter to a home page where the latest update is featured, and you can read the descriptions, see a sample shot and view the upload dates too. Uploads, I noticed, happen at the rate of one a week, so that's decent enough. Once you've decided on what movie to view, and there are 21 on the home page, you simply click to move on, You can then view the whole scene in one long Flash streaming version, or you can click to the clips and find one minute clips to stream.
(No downloading.)
There is a drop down box for your choice of resolutions and this list contained simply 'madman' when I was in the site. These are HD movies and you'll do well to be on a fast connection in order to view them uninterrupted.
The quality is fine here. Not only of the productions but of the filming too. You have set-ups where you get to meet the cast, there is also a more detailed description of the scenes and sometimes how it came about and how it was set up, then you simply sit back and enjoy. Your movies will run for anything from ten minutes up to around 20, you've got a good mix of cast with hung black guys and smooth young white guys, so interracial sex is on the menu, and you've certainly got plenty of hardcore.
It's neat to have the clipped versions of the scenes too, because here you can cut to the chase of you want and see the first penetration moment. Make sure you've got the sound up at this point to get the full effect. Though watch out not to scare your neighbors.
Now I bet you're wondering how huge these huge guys are. Well, a few stats wouldn't go amiss but I'd guess at... huge. What size is that cock? Around nine inches, probably more, fat for sure, and the guys on the receiving end have to stretch their mouths really wide during the oral moments and their asses wider for the anal ones. What's also neat here are the ends of the shoots, Sometimes you get some very messy facials and, in others, the black top guy wanders off leaving the stunned bottom guy to finish himself off and you get two cum shots; other time there's just the one, it's a nice mix.
So, good news on the quality and action front, not such good news with interactivity- a model index, details and a favorites area would be nice to see, as would some extras. There are offers for sign ups to other sites, and a page of reviews, which also carried from sample videos, so you can consider that as an extra.
Bottom Line:
Loved it. It's Gonna Hurt has been around for only a short while, comparatively speaking, but already it's filling up nicely with original content. The quality is good, the resolution is high so faster connections will be better, and the guys are hung and horny. Some are very hung, and at the end of the hardcore day you get what's promised on your tour.
VISIT Its Gonna Hurt NOW!
VISIT Its Gonna Hurt NOW!