Laughing Asians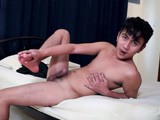 JUB Site Rating:
0 total vote





Laughing Asians's Billing & Pricing
Laughing Asians's primary billing processor: Paycom
$29.95 for 30 days (recurring)
$69.95 for 90 days (recurring)
$49.95 for 30 days (non-recurring)
VISIT Laughing Asians NOW!
What you've got here are exclusive tickling and foot fetish videos and pics, and all staring smooth, cute Asian guys. Oh yes, and there is lots of sex going on too. Laughing Asians mixes up its genres successfully to bring us Asian twinks and fetish content, and the fetishes are to do with foot worship, foot play and all things erotic to do with feet. And ticking as the boys often get ticked elsewhere other than on their feet. So, plenty of hot ideas for movies there, but does the site pull them off well?
Yup, no worries about the movies or the galleries here. And certainly no worries about the update schedule. It's great to see a site where even the tour is up to date and where they publish the dates too, so that member can, if they want, keep an eye on the schedule. When I called in to the members' area there had been a new video and gallery posted every week, which is a fair old helping of new porn for you. And, by the way, your membership comes with access to five bonus sites, one of which is Asian themed, and all of which are exclusive and regularly updated, so loads more horny things to view there.
Meanwhile, back at the Laughing Asians videos... I counted 238 on my visit, and each one is set out with a sample pic, usually its upload date and a short description. Click the link to get to the video's main page and here you have your viewing options. These were kind of basic but good choices have been made for you: there's a WMV stream that runs at 968kbps @ 720 x 480, there is also a WMV download of the full scene and one that's made for your iPod in MP4 format too. I was viewing videos that ran for around 10 to 15 minutes here and these were often parts of a larger adventure. That's ok; you may find that you've got your bondage and tickling
(did I mention the Asian twinks sometimes get tied to the bed)
in one part and the hardcore action in the second. And the movies do get hardcore, don't you worry about that. You've got two young Asian guys together before and after the tickling or fetish content, and sometimes you've got older white guys with the youthful Asian boys, which adds some extra spice to things.
But whatever and whoever you find in the videos you find them well made and very collectable. They are sometimes a bit 'handheld' or amateur looking in production, but this simply adds to the reality fell of things, so I for one don't mind the hotel room settings and the sometimes slightly dark lighting.
I should also let you know that the videos come with screen caps, but these are a guide only, they don't enlarge. But for actual photos, and ones that you can keep, you can go to the Models Photos area for 30 digital galleries of some of the main stars of the site; you can download zip galleries here and there are plenty of hot action shots along with the nudity. The Movie Shots gallery area contains around 140 photo sets taken from the movies, so more hot action there and then you're off into bonus land with those five exclusive sites and loads of video feeds - not all Asian or fetish themed, but all extra value nonetheless.
Bottom Line:
We like Laughing Asians, it mixes the hardcore well with fetish and it brings us smooth and young looking models in all kinds of fetish situations, with loads of sex, photos, extras and bonus sites too.
VISIT Laughing Asians NOW!
VISIT Laughing Asians NOW!