Magnus Muscle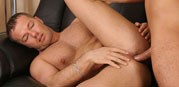 JUB Site Rating:
0 total vote





Magnus Muscle's Billing & Pricing
Magnus Muscle's primary billing processor: Paycom
Monthly Membership - $28.32
3 Months - Only $59.32!
VISIT Magnus Muscle NOW!
Magnus Muscle is one of the sites featured in the Magnus Network and with access to one you get access to all. They concentrate on fetish content in the main and cum-swapping and creampie action in particular. But their Muscle site is all about hunky guys as opposed to the twinky boys who appear on the others. So, basically, you are in for some good looking studs and some good looking twinks
(in the bonus area)
plus some rather 'off the street' type guys who you could, if you were being kind, class as 'ordinary'.
Most of the 28 videos are straightforward duo action films, with two hunky guys going hell for leather with each other until the cum shot finale. There are some group scenes though, such as Military Gangbang, a six man assault on sex with all kinds of coupling by guys in army caps and shirts. This one streams in segments that are three minutes long and play at 760 kbps @ 640 x 360, a decent enough size to view. But you also have the option of downloading a full length version to keep. It's also open season on bears at Magnus Muscle, though not hugely so, with titles like Bear Season, featuring a big-ish hairy guy and a slightly skinnier one. As for your typical muscleman, well there are some; I would say that most of the guys are fit and toned as opposed to impossibly muscled, these aren't bodybuilders like you'd find on a bodybuilder site, though some wouldn't look out of place there. But there is no denying that these guys have muscles and show them off. You'll find plenty of ripped abs and bulging biceps and some guys that are 'on their way' to becoming muscled too.
So, you have the content that you are promised on the tour - not a huge amount of it as yet but hopefully more will be uploaded according to the site's promises. One of the features of the site is a link on every video page to individual model's other content. So if you fancy seeing your favourite guy in something else you can easily find it. It also features image galleries with hundreds of great pics per set, digital stills from a high definition camera that click up to a good size; 1064 x 1600, which involves some scrolling around to see everything.
Click back to your home page to find all the other links and update news.
(There appears to be a new video/gallery every week, or at least three a month, which is good news.)
Back here you will find the bonus sites listed at the bottom and on the side menu which remains there throughout your visit. Simply click and enjoy - no need to re-enter your login details. Here you will find that cum swapping and creampie action along with ass play, shemales, amateurs and first timers. All the sites have a similar look and the same format so there's no chance of getting confused. And, if you have any comments, you can use the feedback page - get interactive, vote for what's hot and what's not and send in your thoughts, that's what a membership site should be about and this one is.
Bottom Line:
So, you have a site that's simple to use, gets updated regularly and that features some muscled guys and some good looking, well fit hunks too. The movies are well made, the sound is natural, there are good viewing options and plenty of bonus sites to dip into too. You can download the vids and keep them and the fact that you have all those other sites to sample means that you are going to need to stay here for a while to see everything.
VISIT Magnus Muscle NOW!
VISIT Magnus Muscle NOW!