On The Hunt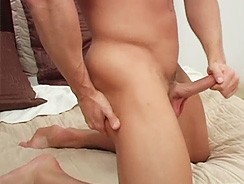 JUB Site Rating:
0 total vote





On The Hunt's Billing & Pricing
On The Hunt's primary billing processor: In House
On The Hunt's optional billing processor(s): Dhd Media
$24.95 per month recurring
$34.95 for one month non-recurring
$59.95 for three months non-recurring
VISIT On The Hunt NOW!
Three cool and unique things contribute to On The Hunt: the guys here are real amateurs who have been found through the hook-up site Manhunt, that's the first neat thing. The second is that they appear with other guys from the same place in genuine first time, 'meet and hook up and have fun' videos, which are also unique. And the third thing is that these videos are filmed by real porn stars; you're going to recognise some names behind the camera here.
Check the tour to get a flavour of what's in store, and then log in to find out exactly how hot this great site is. You see, it's not just the concept that is good here, but everything from the design to the productions works in your favour. The home page, which is very like the tour, starts to you off with the latest site news and a set of good sized sample shots of the most recent episodes. It's non nonsense, no messing around time when you log in each time. There's a top menu to take you to the other parts of the site, including a blog and your own favourites storage area, or you can simply click one of the sample shots to get straight to a video. To get to the other videos, you simply use the Next button at the bottom or the drop down list of page numbers. There were 23 when I called in and, with 12 per page, that made a total of 276 movies to stream or download.
Check back at the top of these main pages and you find another list. This time it's porn stars, and here you can select videos filmed by the likes of Jeremy Hall, Collin O'Neal or Pierre Fitch, and if you don't recognise at least some names here then you are either new to gay porn or you've not been paying attention when drooling over some hot bodies and great stars.
So, which movie to select? Well, the sample pics guide you well enough though a model index would be a neat addition to the site, so you could search the guys by face or body pics. But clicking through the index pages will do for now. You'll find some solos, plenty of action scenes, some threesomes and loads of hot looking guys. They say these guys come from the hook up site, but they must filter out some of the applicants, as there was no one here who didn't have some kind of porn star potential. Having said that, they are average, guys next door, types and a good mix of younger twinky-types and older hunks, some bears, ebony dudes, Asian lads and plenty of toned, gym-fit guys, all with cute butts and good bods.
Technically speaking you have no worries. The movies are suitable fro Mac and PC, you've got zip files for photo sets and some pics on each of the movies' individual pages, there are three qualities of downloads for Quicktime and WMV, and an iPod file to take, plus a Flash stream to run. Movies rum for up to 40 minutes and the filming is natural, so you get a genuine show. There are interviews and chats before, sometimes during and after the movies, and you really do get the feeling that these guys are having fun. They are, and so will you be.
Bottom Line:
On The Hunt takes a great idea and turns out good, natural and believable amateur porn, as shot by professional porn models who know what they are doing. It's hot and horny for sure, it'; also good fun and well put together; technically there are no problems, it's a good price and the updates are frequent. A big thumbs up all round.
VISIT On The Hunt NOW!
VISIT On The Hunt NOW!