Papi Cock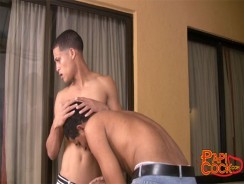 JUB Site Rating:
0 total vote





Papi Cock's Billing & Pricing
Papi Cock's primary billing processor: Ccbill
TRIAL access $4.95 converts to $19.95 (recurring)
MONTHLY access $19.95 (recurring)
3 MONTHS access $44.95 (recurring)
VISIT Papi Cock NOW!
The word Papi is defined as "a sexy masculine latino male". It can also mean "Daddy" or be a pet name for a boyfriend. The site Papi Cock evokes a mixture of all three. These guys are some of the hottest Latino men from all over the world. And with their exotic good looks and their out of control libidos they'll be calling you Papi in no time.  
These guys love to fuck and love to have you watch them. With their gorgeous light brown skin, brown eyes and dark hair they can be your biggest fantasy. And this site is so well put together that find the Latino guy of your dreams couldn't be easier. The menu is always on the left and takes you all of the site's many features. Click on Papis to get a list of models and their newest videos. Just click on a thumbnail image and automatically get a full bio on that model, including more info about him then you'll ever need to know and links to his video and photos. And with as many hot guys as there are on this site you'll be there for quite a while.  
There is a DVD store for getting your favorites on DVD, and a Pay Per View section if you want to watch full blown feature porn movies in addition to the videos given to you on the site.   
The guys who run Papi Cock say they "travel to Brazil, Puerto Rico, Dominican Republic, Argentina, Cuba & many other places to bring you the hottest, most original models in the world" and with the wide variety it shows. As for the videos, you can watch them in Windows Media or Quicktime and they come in a variety of sizes.  
The site is jam packed with extras. Included in your Papi Cock membership is this video/chat below from the Coco Dorm, and the Fun & Games page offers puzzles and calendars that add a nice touch to such a comprehensive site.   
Bottom Line:
Don't call us if you get so into this site that you start planning your next trip to Argentina to try and find all these hot guys. From excellent content to all the nice extras, this is the perfect site for loves of hot Latino men everywhere.
VISIT Papi Cock NOW!
VISIT Papi Cock NOW!