Boys First Time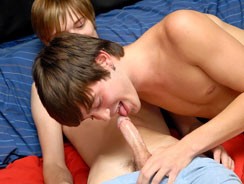 JUB Site Rating:
0 total vote





Boys First Time's Billing & Pricing
Boys First Time's primary billing processor: Paycom
3 Day Trial - $4.95 (Rbills at $39.95)
Monthly - $24.95
VISIT Boys First Time NOW!
Surely you must have heard of this site or at least seen it advertised? If not, where have you been? I remember seeing this site years ago when I first started to explore the web so I know it has been out there for several years already. Magik Mike tells us that he'm produced the material himself, going around filming all the kinds of guys he likes to see and adding them to his "project" list. You can sample some of his work in the tour where you will also find information about the number of pics and length of vids that are available to you when you sign up.
This is more than just another gay porn website with smooth young lads on it, when you join Boys First Time it'm like joining a community. In fact there is a community forum where you can meet other members and share your views and ideas. On your home page you get all the information you could ever want, including an update schedule, details of your free access to the bonus sites and special offers. You will also see some of the more recently added vids and picture sets but to get to the full list click on the link further down. Now we're getting somewhere: 207 individual movies each with its own gallery and each one cut up into sensible sized clips. Actually you have the option of one minute clips or longer sections and you can stream these and watch them on-line or you can download them to your PC to enjoy whenever you want. It'm easy to access the movies and you should have trouble grabbing as many as you like. You get a screen cap with each clip so you can see at what stage the action is before you view, so if you like the cum shots you can bypass everything else and jump straight to that.
The guys are young here, in the 18 - 25 age range and they all have a fresh, innocent look about them. Having said that they are a varied bunch with Latinos, smooth white boys, Asians, boy next door, hunkier college studs and real plain looking boys from the street. What they all have in common is a lust for hard sex and there are no holes barred in the movie clips; plenty of lush oral and flesh slapping anal and masses of gooey stuff at the end of it all.
It is the movies that are at the heart of Boys First Time and you won't be disappointed by them but there are other features to the site too. You can access two bonus sites, trannies and Latinos, and you can click over to dating and web cam sites where you may have to pay to get fully involved. There is also a favourites area where you can store your fav boys but I couldn't get this page to work until I realised that I hadn't bookmarked any favorites - Dur! It was fine after that of course, silly me.
Bottom Line:
I knew I'd like this site as I'd seen so many hosted galleries advertising it out there on the web; it is easy to navigate and well designed. It'm a simple set up so you can concentrate on the top quality flicks that download quickly and feature some very hot and smooth young guys. You're promised a weekly update and you can access some bonus sites too so you shouldn't get bored with your membership. There are plenty of solo jerk off scenes as well as couples in action in the 200 plus videos and masses of images to collect. If you like'em young and hung then you could do worse than look at this well known and good quality site.
VISIT Boys First Time NOW!
VISIT Boys First Time NOW!